ADOPT IPM - EU-China joint action to increase development and adoption of IPM tools

Description: Optimisation and implementation of integrated pest management tools to help reduce farmers' dependence on conventional chemical pesticides in the EU, China and associated countries.
Duration: 4 years (2022-2026)
CTIFL engineer: Benjamin Gard
Countries/partners represented: INRAE is the project coordinator.
Other partners: Netherlands (Wageningen), Spain (including IRTA), Italy, Denmark (Aarhus University), Belgium, United Kingdom and of course several partners from China.
Financial support for the CTIFL: >200K
Climate Farm Demo - A European-wide network of pilot farmers implementing and demonstrating climate smart solutions for a carbon neutral Europe

Description: European-wide network of "climate neutral" pilot and demonstration farms. 130 farms in France, the majority of which are in mixed farming. 5 fruit tree farms and 5 in market gardening are planned.
Duration: 7 years (2022-2029)
CTIFL engineers: Ariane GRISEY, Antonin PEPIN
Countries/partners: Idèle is the project coordinator.
Other partners: there is a total of 80 partners, including several ITAs, covering a large part of the European Union.
Funding for the CTIFL: >100K
Innobreed - Innovative Organic Fruit Breeding and uses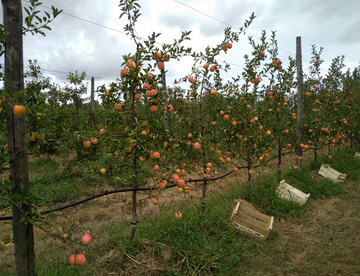 Description: Creation of fruit varieties adapted to organic production, setting up of a varietal evaluation network in organic agriculture at the European level and taking into account the context of climate change, phytosanitary protection, quality and the low input approach. Species targeted by the project: Rosaceae, Citrus and Vine. The CTIFL is involved in peach, apricot and apple crops.
Duration: 4 years (2022-2026)
CTIFL engineers: Sandrine CODARIN, Claude COUREAU, Claire CRESTIN, Guillaume REVEAU, Julien RUESCH
Countries/partners: the Centro Internazionale di Altistudi Agronomici Mediterranei (IT) is coordinator of the project.
Other partners: INRAE, Belgium, Germany, Spain, Czech Republic, Austria, Denmark
Funding for the CTIFL: >150K
---
UV-ROBOT - Demonstration of the health efficiency of robotic systems using UV technology

Description : Maximising the impact of the project by increasing the demonstration area (the Netherlands and Germany) and adapting the use of UV-C in the enhanced IPM strategy to control pests and diseases in tomato and cucumber crops. UV-C showed promising side effects against spider mite, russet mite and Botrytis. Next we validate the findings on the breeding of strawberry plants. The efficiency and benefits of UV-C will convince growers of North West Europe to implement the technique in their IPM strategy.
Duration : 3 years (2020-2023)
CTIFL engineer : Eric BRAJEUL
Countries/partners : Research Centre Hoogstraten, PCH.
Other parteners : Research Station for Vegetable Production, (PSKW), Octinion Nederland, Botany B.V.,Stichting Aardbei Onderzoek (SAO), Comité d'Action Technique et Economique (CATE), Wijnen Products E2 BV.
Funding for the CTIFL : 36 030 €
---
Best4Soil - Boosting 4 BEST practices for SOIL health in Europe

Description : The impacts of soil-borne diseases and pests on vegetable crops have been studied for several decades across Europe. Several natural methods of combating these diseases have been described and this knowledge has been carefully saved on websites, scientific and technical journals within each country. To share these achievements across Europe, researchers from the Netherlands, Spain and the United Kingdom, as well as an Austrian organic producer, have set up the Best4Soil network, which is funded by the EU. This network brings together research and experimentation institutes, associations and producers from twenty European countries. The CTIFL represents France in this large network. The aim of the project is to provide practically applicable information on four methods of controlling soil-borne diseases :
- The use of compost and organic amendments
- The sowing of green manures and cover crops
- Biological soil disinfection
- Crop rotations

These techniques are already used in some countries. The use of green manures is, for example, common in France but not in other European countries. Anaerobic soil disinfection (also known as ASD), on the other hand, is only used on small areas, including in the Netherlands, where this method was developed. It is therefore essential for practitioners to share knowledge and experiences relating to these methods. Thus, the Best4Soil network allows regular exchanges between practitioners, farmers and advisers, as well as with researchers and trainers. Project representatives are present in each country.

More informations : https://www.best4soil.eu
Duration : 5 years (2018-2022)
CTIFL engineer : Marie TORRES, Charlotte BERTHELOT
Countries/partners : Allemagne, Autriche, Bulgarie, Chypre, Danemark, Estonie, France, Hongrie, Irlande, Italie, Espagne, Lettonie, Lituanie, Pays-Bas, Pologne, République tchèque, Royaume-Uni, Serbie, Slovaquie et Suisse.
Funding for the CTIFL : 18 288 €
---
DOMINO - Dynamic sod mulching and use of recycled amendments to increase biodiversity, resilience and sustainability of intensive organic apple orchards and vineyards

Description : Through several experiments performed in organic orchards and vineyards, the DOMINO project evaluates, using common protocols, a series of cropping systems that aim to reduce external inputs, particularly in terms of fertilization, by focusing on the ecosystem services which may be delivered by a selected plant biodiversity. The project focuses on three action levers: i) planting different ground cover species in the rows or interrows for various benefits (weed control, fertilisation, pest regulation, additional income with cash crops); ii) managing fertilisation by using recycled materials or products from external legume crops; and for some of the partners, iii) evaluating top plastic covering and lateral netting systems for disease and pest control to minimise the use of plant protection products.
Duration : 3 years (2018-2021)
CTIFL engineer : Maria-Martha FERNANDEZ
Countries/partners : Università Politecnica delle Marche (UPM), Ancona, Italie.
Other parteners : University Hohenheim (Allemagne) ; Laimburg Research Centre (Italie) ; INHORT (Institute of Horticulture, Poland) ; FIBL (Research Institute of Organic Agriculture, Switzerland) ; Fruit Growing Institut (Bulgaria).
Funding for the CTIFL : 57 800 €
EUFRUIT - Reduction of pesticide residues on fruit and in the environment
Description : EUFRUIT coordinates and supports innovation through developing a framework for relevant stakeholders. It establishes a systematic approach for knowledge gathering and dissemination on 4 thematic areas of critical for the competiveness and innovation potential of the European Fruit sector: i) new cultivar development and evaluation; ii) minimise residues on fruit and the environment; iii) optimising storage and fruit quality; iv) sustainable production systems.
Duration : 3 years (2016-2019)
CTIFL engineer : Franziska ZAVAGLI
Project Coordinator : Aarhus University (Denmark)
Other parteners : 21 partners (Denmark, Belgium, Germany, Netherlands, United Kingdom, Spain, Switzerland, Italy, Romania, Lithuania, Hungary)
Funding for the CTIFL : 106 826 €
EUCLID : EU-CHINA Lever for IPM Demonstration

Description : The overall goal of EUCLID is to contribute to secure the production of food for the increasing worldwide population while developing sustainable production approaches to be used in the European and Chinese agriculture. The project exploits the thorough knowledge developed in the last years on IPM to adapt and optimize those tools and approaches which did not reach the field/market (yet). In addition, the consortium works on the further development of high potential innovation pest management solutions.
Duration : 4 years (2015-2019)
CTIFL engineer : Benjamin GARD
Project Coordinator : INRA
Other parteners : Agrobio (Spain), Agrinewtech (Italie), ACTA (France), BINAB (Sweden), Carrefour China (China), Carrefour France (France), Somoco (Spain), AGROINOVA (Italy), IPCAAS (China), Gent University (Belgium), Imperial (UK), IRTA (Spain), NOAH (China) OXITEC (UK), UdL (Spain), Venice University (Italy), Zhejiang University (China)
Funding for the CTIFL : 98 190 €
APPLEGENIE : Predictive diagnostics based on gene expression for rapid assessment of crop load programs and bitter pit disorder in apple fruit

Description : AppleGenie aims at new scientific knowledge and technology for assessing the physiological status of apple orchards as a means to overcome two major burdens for apple growers and fresh chains: Ineffective thinning programs for crop load management; and Bitter pit post-harvesting disorder. The project displays a molecular diagnostics solution given as three different components: full protocols for diagnostics; off-the-shelf sampling kits for on-site preparation of samples prior to analysis; desktop compact laboratory for on-site analysis through the use of the kits. It gives molecular diagnostics the momentum it needs in apple horticulture. A new business model based on molecular diagnostics services was put in place through transnational collaboration to develop reliable diagnostics tools, with a primary focus on two badly needed
Duration : 3 years (2014-2017)
CTIFL engineer : Vincent MATHIEU
Project Coordinator : NSURE (Netherlands)
Other parteners : JCB (ES), OPNAT (ES), MIBAN (IT), COFRUID (FR), Granfrutta ZANI (IT), IRTA (ES), UNIBO (II)
Funding for the CTIFL : 11 880 €

Description : The objective of this project is to harmonize the resistance tests in terms of reference material (isolates and varieties), test conditions and notation scales, and to propose new harmonized and robust protocols to CPVO. The project aims at harmonizing, at the European level, resistance tests to seven vegetable diseases: Meloidogyne incognita/ tomato ; Fusarium oxysporum f. sp. lycopersici Race 0 (ex 1) and Race 1 (ex 2)/tomato ; Erysiphe sp/pea ; Powdery mildew/melon ; Fusarium oxysporum f. sp. melonis race 1.2/melon ; Fusarium oxysporum f. sp. melonis race 2/melon.
Duration : 2 years (2016-2018)
CTIFL engineer : Marie TORRES
Project Coordinator : GEVES
Other parteners : Naktuinbouw (Netherlands), INIA (Spain), Central Institute for Supervising and Testing in Agriculture (Czech Republic), Palacky University (Czech Republic), Bundessortenamt (Germany), Julius Kühn-Institut (Germany), National Food Chain Safety Office (Hungary), Science and Advice for Scottish Agriculture (UK), Seed companies belonging to ESA (UE)
Funding for the CTIFL : 3 895 €
---
The EUFRIN and EUVRIN networks
The EUFRIN network

The EUFRIN network is an informal network of universities and research institutes working on fruits. The CTIFL is a member of the EUFRIN board as well as of several working groups:
apple-pear (varieties, rootstocks)
peach-apricot (variety evaluations)
nuts
thinning
postharvest and fruit quality
sustainable production to minimize residues
strategy

The EUVRIN network was created in 2016. The CTIFL is associated with the EUVRIN board, as well as Working Groups on:
genetics
IPM
fertilisation
aspects of quality/postharvest
A Strategic Research and Innovation Agenda (SIRA) for fruit and vegetables in Europe is co-constructed and shared between EUFRIN, EUVRIN, Arefelh and Freshfel.