Studies on apple consumption trends in France make it possible to identify the different sales channels and the profile of consumers, particularly for the choice of varieties. This analysis is intended to understand the demand better so as to better adapt the range of varieties on sale.
Published 01/05/2021
Estimated reading time: 8 minutes
Downward trend in consumption
Apples remain the leading fruit consumed in France with nearly 90% of people buying them and purchases per household amounting to just over 16kg per year. In the fruit basket, it is ahead of bananas and oranges. However, it should be noted that for the past few years, the dynamics of purchasing is more favorable for bananas while for apples a regular decline in consumption has been recorded. In 2019, however, we observed a very slight rebound in quantities purchased.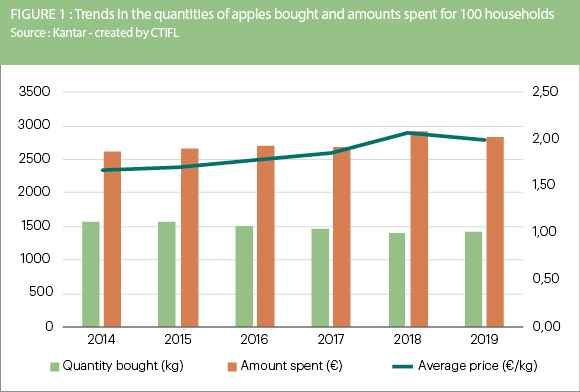 This content is reserved for logged in customers.